Have you ever found yourself in a situation where you need to do some cleaning, but you don't have the right tool or the water source around? Frustrating, right? Yet we all have, so it's sort of a common situation for all of us to feel desperate and wish for the genie of the lamp to pop up and save the day. I'm sure you'll feel relieved to know that there's such a tool on the market enabling you to handle such situations effectively and effortlessly. So, keep reading to figure out about Ronix Cordless Pressure Washer which can make cleaning an enjoyable and fun thing to do.
What Is a Pressure Washer?
A pressure washer is a tool you can use for cleaning various surfaces. To make the tool run efficiently, you need two kinds of sources: a water source for the amount of water you need for cleaning; a power source to generate the power needed for the job. If you get a hold of those two, the rest is up to your pressure washer. It draws water from the water source and by running on its power source, it expels it with high pressure to remove unwanted things like algae, mold, dirt, etc. from the surface you point your pressure washer at.
Now, if we want to categorize different types of pressure washers, we can do that according to the types of those two sources. Some pressure washers need running water to clean surfaces while some can do the job even by a small bucket of water. Power-wise, some are powered by gas or direct current while some are powered by a lithium-ion battery and that's why we call them cordless pressure washers.
Features to Look for in a Cordless Pressure Washer:
When it comes to cordless ones, the most tangible feature that stands out is the battery. And what matters most for the battery are features like battery life, battery runtime, the charging time along with the power it generates. Next, you need to consider the water usage meaning what kind of water source is needed and how much. Portability and functionality besides affordability are the other features you need to look for in a cordless pressure washer to have the best purchase possible according to your cleaning purposes.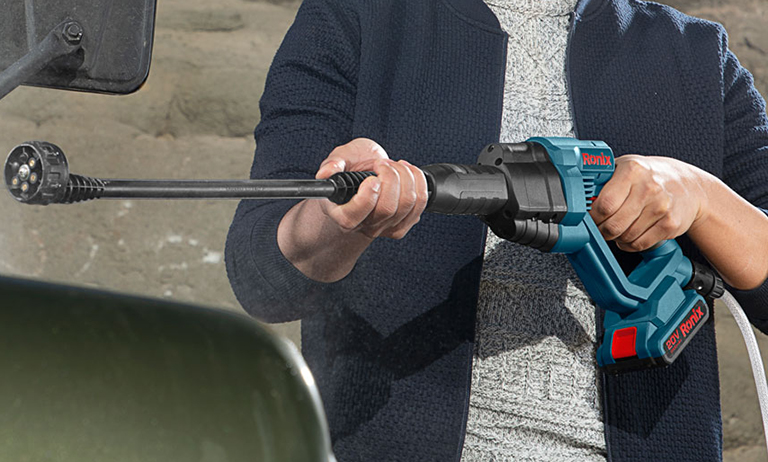 Ronix 8930, Our New Cordless Pressure Washer:
Ronix 8930 is a brand-new cordless pressure washer which can enable you to ease your cleaning tasks whether around the house or on the road. Now, let's take a look at its features to see why it's worth being your best cleaning buddy:
Water Source
Ronix Cordless Pressure Washer makes it all convenient for you when it comes to the water source you want to use for your cleaning purposes. It can use any kind of water source, still or running, to clean various surfaces like in your backyard, patio or your dirty car after an off-road trip. This cordless pressure washer can draw water from a water source nearby through its self-priming mechanism with a 6-meter-long suction hose, or if there's no water around, you can do your cleaning by just a bottle of water attached to your Ronix 8930. Using just a bottle of water, you can see how it can minimize your water usage while cleaning as the spread of water expelled through its high-pressure nozzle is strong enough to remove any stubborn dirt or stains from the surface you're cleaning.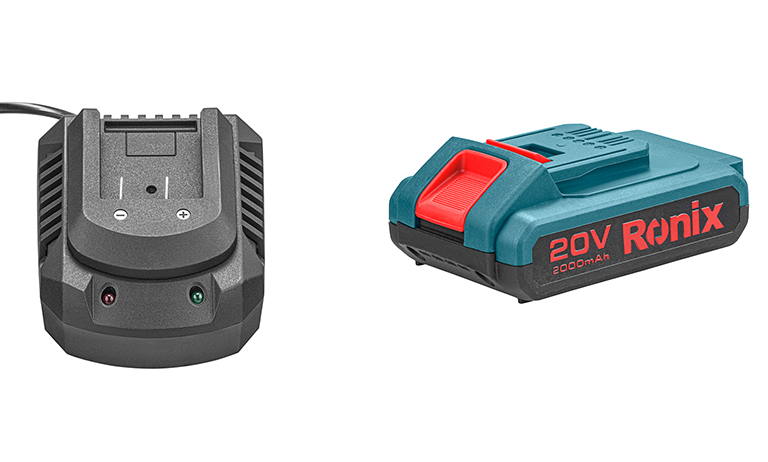 Battery
Ronix 8930 Cordless Pressure Washer belongs to Ronix 89 Series or All-in-One Series which means its 20V Lithium-ion battery is interchangeable, so you can use it with any tool in this series. Its charging time is only one hour, so you don't have to wait for long when your cordless pressure washer is out of juice and that option is on the table thanks to the fast-charging charger included in the package. While cleaning, you don't have to worry about your battery charge as the battery light indicator shows you how much charge is left in the battery.
Portability
When we talk about portability, the first thing which comes to mind is the lack of cords, but there are some other features to consider to have the best portability fitting your cleaning purposes. Let's say you want to clean your patio; if you're using your Ronix 8930, you have a portablebattery-powered pressure washer which is lightweight (weighs only 2.4 kg) and compact with an ergonomic design to feel as comfortable as possible in your hands to swing around in any enclosed area like your backyard or patio.
Functionality
Now that we know enough about pressure washers and what features to look for in them, let's talk about how your Ronix 8930 Cordless Pressure Washer works. Its customer-friendly appearance aside, Ronix 8930 is an easy-to-use device with several useful and convenient attachments to help you clean dirty surfaces according to your needs.
The first thing you need to do to run your cordless pressure washer is to make sure its interchangeable battery is full then attach it to your Ronix 8930. Second, choose your water source which can be of any kind thanks to your Ronix 8930 enabling you to use either a bottle of water or a water source nearby by using its 6-meter-long suction hose to draw water from up to 4 meters high (Its filter basket prevents impurities from entering your device). Next, you need to attach the cleaning agent container if your cleaning requires some detergent as well (preferably biodegradable not to damage your device). After that, bring the spray lance whose 6 different spray settings enable you to work varying angles ranging from zero degree or straight angle to 40 degrees in addition to the diagonal mode suitable for washing low surfaces which are difficult to reach like the undercarriage of your car and the shower mode suitable for watering. Now, you're all set to expel water with high pressure from your Ronix 8930 to remove stubborn dirt or stains from any surface you like and you have nothing to worry about if your battery is out of juice since it only takes one hour to get up and running again.
Affordability
Whenever we see something to buy, the first thing we do is to take a look at its price tag because it's useless if what we want to buy has the best features, but we can't afford it as it's too pricey. All Ronix products are well-known for their reasonable prices besides their high quality and Ronix 8930 is no exception. For instance, instead of having 6 different nozzle attachments, Ronix 8930 Cordless Pressure Washer has an easy-to-rotate dial with 6 different settings to reduce the cost for you and provide you with more convenience; that's why you can find this cordless pressure washer within a reasonably affordable price compared with the competing models on the market.
Conclusion
We all need a cleaning buddy because cleaning is no fun as a solo project. Ronix 8930 Cordless Pressure Washer can be your capable companion when it comes to removing stubborn dirt or stains from different dirty surfaces. It is a combination of affordability and convenience. Its lightweight, compact and ergonomic design avoids fatigue and its 6-in-1 nozzle provides you with different settings to suit your cleaning purposes while you don't have to worry about 6 different nozzle attachments to come off when you're in the middle of your fight with dirty surfaces. The best features and functionality along with the desirable portability make Ronix 8930 a great choice for all your cleaning wherever you are despite the fact that there's some water source around or not since when it comes to cleaning, this cordless pressure washer is your genie of the lamp and the only thing you have to do is to make a wish.